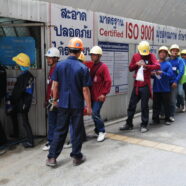 As long as you are a working professional in the US, you are covered against anything that happens to you at the workplace under the workers' compensation insurance scheme. It means that you can work freely, and if you get injured while performing any work-related task, your employer will take care of any expenses related to medical bills and wage loss. The construction work is no different. 
This post talks about your rights as a construction worker and how you can get compensation after a workplace accident. Follow the steps given below to have a trouble-free experience in case you ever sustain injuries while performing your duties. 
Rights of Construction Workers:
The construction work consists of many risks that can lead to an accident. As a worker, you are expected to move around the work site where heavy metal equipment, rocks, sand, and other tools are placed everywhere. You may also be required to drive a vehicle from one work site to another several time a day. All of these tasks can be efficiently performed if you are attentive and energetic throughout the day. So, make sure you are in your best state of mind throughout the day. 
Another important thing is that if you're injured while driving a commercial vehicle for transporting goods from one place to another, or doing any other task at the worksite and meet with an accident, then you can exercise your right to receive financial benefits from your employer. It can be done only if you incur huge medical expenses or stay bedridden for a long time and cannot resume work for a long duration. 
The easiest way to get benefits is by filing a workers' compensation claim. In case your employer doesn't cooperate, you can always hire a skilled personal injury lawyer and sue your employer in court. All you need to do is collect the evidence and share them with an experienced lawyer or law firm that is reliable, supportive, and trustworthy. Do this without wasting any time for a hassle-free and pleasant recovery experience after a workplace injury.